The Central Division could have been categorized as status quo last year with the same teams finding their way to the top despite major injury concerns. At the end of each summary we will highlight just one blog for that respective team, but there are many quality sites out there if you care to search for them. Please share your comments on the rest of the teams across the NHL as we fill the void of the offseason.
2010-2011 Record: 44-29-9 (3rd in the Division)
Offseason Thus Far: Most Blackhawks fan probably feel optimistic about the upcoming season but Patrick Sharp's recent appendectomy could have put a small damper on that. Jamal Mayers and Dan Carcillo are fighting for fourth line time while Ben Smith is looking to back up his playoff performance. Bryan Bickell is also set to return but this team is obviously led by Jonathan Toews and Patrick Kane. Given the current make up of the roster, it would not be surprising if a veteran is traded away early in the season.
Analysis: It is a good team that may be most worried about consistency. Corey Crawford has showed flashes of brilliance in net and Duncan Keith and Brent Seabrook are proven defensemen. However, the depth scoring may be more pivotal on this team than other in the Central as Michael Frolik will become a key player.
2010-2011 Record: 34-35-13 (5th in the Division)
Offseason Thus Far:
Columbus
found themselves in the basement again despite a small two game improvement. The Blue Jackets locked up Fedor Tyutin in the offseason, but the biggest acquisition is the controversial Jeff Carter. There are lots of stories about Carter's ability to fit in a locker room, but now he is in the shadow of Rick Nash. Youngster Matt Calvert is hoping to make an impact.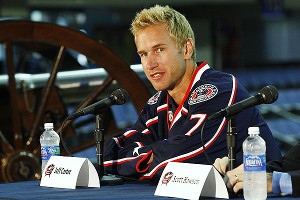 Analysis:
Can
Columbus
rise to the level of its division competition? Chemistry may be an issue as new faces fill different roles. If any injury issues plague
Columbus
, that could be the end of their hopes. It will be an uphill battle all year and hopefully for Blue Jackets' fans Carter will fit in well.
2009-2010 Record: 44-24-14 (2nd in the Division)
Offseason Thus Far:
The amount of uncertainty heading into last season for
Detroit
was staggering so this off-season might seem like a breeze. The biggest news may have been that Chris Osgood and Kris Draper retired. Osgood had effectively been replaced by Jimmy Howard in net, but has played a major role over the years. Draper may have not been putting in a ton of minutes but his team presence was easy to see. Logan Pyett and Garnet Exelby were added as depth signings and Mike Commodore is looking to contribute after wallowing in the AHL. Despite the age of Daniel Cleary and Tomas Holmstrom and stalwart Nicolas Lidstrom the Red Wings maintain their overall stability.
Analysis:
This does feel like the last time we see the Red Wings we have all come to know. Of course Datsyuk is there to stay, but age is catching up and Players like Jiri Hudler will be asked to carry more of the burden. However,
Detroit
could still make a march to the Stanley Cup and no one would be surprised.
2009-2010 Record: 44-27-11 (2nd in the Division)
Offseason Thus Far:
Revenue was up for the Predators last year as they surged ahead of Chicago in the standings and showed more competitiveness in the playoffs than ever before in franchise history. Marcel Goc and Steve Sullivan have moved on to create more room for young stars. By the way,
Nashville
may have the best goaltender in the NHL as the season plays out in Pekka Rinne.
Analysis:
Pekka Rinne, Ryan Suter, and Colin Wilson are all in their contract years although
Wilson
is restricted. Despite the departures of Goc and Sullivan, the veteran presence will be provided by David Legwand, Mike Fisher, and Martin Erat. The defensive pairing of Jonathan Blum and Kevin Klein performed well through May but still need to prove themselves. Regardless this team should make the playoffs. It is an important year for the Predators franchise.
2009-2010 Record: 38-33-11 (4th in the Division)
Offseason Thus Far:
The Blues did not make a lot of noise on the market but have compiled a lot of pieces to an incomplete puzzle. Jamie Langenbrunner, Jason Arnott, Ben Bishop, Jonathan Cheechoo, and Brett Sterling are looking to move
St. Louis
into playoff contention. Last year's additions of Kevin Shattenkirk and Chris Stewart seemed to gel quickly in their new surroundings and many hope this is Alex Pietrangelo's break out year.
Analysis:
Honestly, the puzzle analogy is easily backed up by a look at the current Blues roster on their website. Every forward in the system is listed on the NHL site. They have quality players and now look to David Backes to wear the C on his chest this year.
St. Louis
may start the year energized but the playoffs seem like a lofty goal.