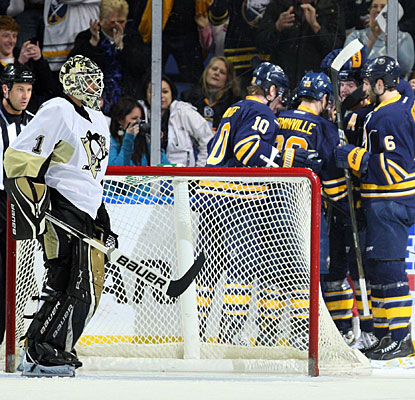 You can say he was great in HBO 24/7. You can say he shattered a "glass jaw". You can say he's one of the most likable guys on the Pittsburgh Penguins' roster, but it's time for Brent Johnson to take the stairway to goalie heaven.
If there's one word I would use to describe Johnson's play this season, it would be inexcusable. His role as a back up goaltender is to give your number one goalie games to rest on, play as solid as you can coming off the bench, and give your team a chance to win each time the coach give you the nod. Johnson has miserably failed in each facet of a back up role this year.
3-7-2 does not get it done. These are points left on the ice the Penguins should have got if it wasn't for Johnson's poor performance. It's not a good situation when your back up goaltender is getting pulled, and your number one goalie is forced to replace him when you're still in the first period. That's time Marc-Andrew Fleury should have been resting for a stretch of important divisional games to ensure a playoff spot. Now we're asking if Fleury has enough in the tank having played so many minutes this year.
This weekend the Penguins host back to back home games vs. TB and CBJ. You'd suspect Dan Byslma would split the games between Fleury and Johnson, probably giving Johnson the game with the higher odds on winning vs. CBJ. But with points as crucial as they are this time of year, do you really want to leave two points up to a goalie who can't finish a game? I don't want to do it, but if I'm Bylsma I'm starting Flower both games.
This is the last year of Johnson's contract. This will be his last season with the Penguins. It's not personal, it's business. Johnson earned the two-year contract extension back in 2010 with his solid play. Now he's earned his spot as a free agent.
Is it time to let Brad Thiessen take over as back up goaltender? Perhaps. John Curry certainly wasn't the future. And I know there will be people out there who will stand up for Johnson. They'll blame the defense. Fleury has had the same defense in front of him all season, and his GAA is nearly one point better.
Face the facts folks. Johnson's year, and possibly his career, went up in flames... So long Brent.
Follow me on Twitter:
@knucklepucker