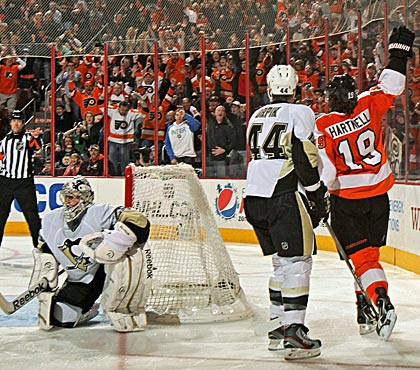 There goes the 11 game winning streak. There goes a chance to tie the Rangers for first place in the Eastern Conference. There goes a should have been victory over the hated Flyers. Is it really all that bad? Not really.
I'm not questioning how much this loss with 0.9 seconds left in overtime sucks, because it does. But many are making this loss out to be the end of the world. Slow your roll and step off the ledge. Allow me to realign your perspective.
The last five games for the Penguins have been against the 1st, 2nd, 3rd, 5th and 6th seeds in the Eastern Conference all in a row. Out of a ten possible points in the standings, the Pens collected nine.
That's impressive folks.
This loss to the Flyers should be a wake up call that the recent winning streak wasn't just a walk through the park and there is plenty of work left to do. Here's where the standings sit this morning:
Finishing first in the Eastern Conference is still in reach with 11 games left. The turkey is on the table with seven of those final games to be played on home ice. IT AIN'T OVER!
Follow me on Twitter: @knucklepucker