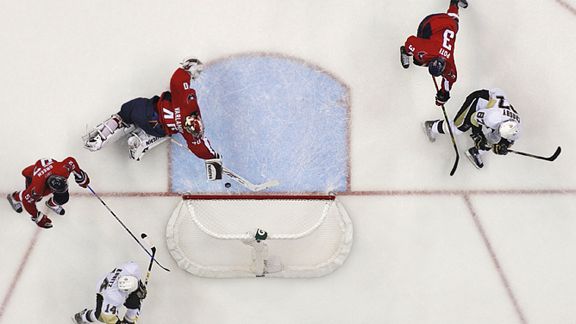 Okay, so we dumped game 1. Crosby scored the first goal and I thought I to myself, well, maybe this will be an easier series than I first anticipated. I was wrong.

The first 7 minutes or so the game was completely dominated by the Pens. We came out strong, controlled the puck, kept it in the Caps zone, allowed them nothing. I'm not even sure they got a shot on goal in the first 6 minute. Crosby made it 1-0 and the everything in the cosmos seemed alright. But then Dave Steckel decided it was time to tie it up after a lucky pass from former Penguin Matt Bradley.

After which the Pens decided it was time not to play hockey. The latter half of the first period the Pens played mediocre , though the Caps didn't play much better. But momentum seemed to be in their corner. Steckel's goal seemed to change everything. At the end of the period we got a power-play, but as of late that means nothing more than Fleury fielding fly balls.

We started off the second period with about as much effort as junior midget hockey. This was flat out one of the worst periods I've seen the Pens play in a while. Ovie scored on a 5 on 3. Ooh, impressive. If MAF didn't bite on the Semin pass, there was no goal. Nevertheless, after Cooke and Ovie did a little dual-jobbing the Pens actually got a decent shot on goal from Eaton and made it 2-2. (FACT) I did curse Eaton for trying to create a shot on the power play about 2 minutes before he scored. I relented.

Just when you thought it was going to be a tight game and the Pens might pull it off Tomas Fleischmann (two "n's') scored.

3-2. Nonsense. Unfortunately that's all we had. We pulled MAF and the Caps failed to "capitalize" twice. Screw it, we'll win Monday.



Potent Potables:

It was all Crosby.
Varlamov made the stop of the series (picture)
Staal didn't bury it (Gary Thorne style).
Sykora did nothing, again.
Game 2 will be much different.